Disaster Recovery & Data Protection

Maximized up-time now and fast recoveries in the future should your business ever encounter an unwelcome force majeure.
SYS IT guarantees both by taking advantage of super-secure cloud data storage and by maintaining detailed procedures to get you back on your feet quickly in the event of disaster.
Most businesses rely on data, at least on some level: to meet deadlines, to please customers, to market products, to make a profit. And since flood, fire, and storm are as big of threats to your daily operation as cyber-security risks, how can you stay safe? Would you be able to run your business the day after a natural disaster knocked out your network?
The name of the game is mitigating risk, but also mitigating pain. Let us help ensure that a worst-case scenario like total data loss never becomes your company's reality.
Our Disaster Recovery and Data Protection coverages provide small-, medium-, and enterprise-sized businesses with the following advantages:
24/7 data monitoring - ensures data integrity over its entire life cycle
Guaranteed backups - data storage is in the cloud, out of harm's way
Built-in data archiving - more cost-effective and reliable than tape backups
Clear-cut procedures - so your vital IT systems are back online ASAP
Quick recoveries - recover your lost files and emails in a flash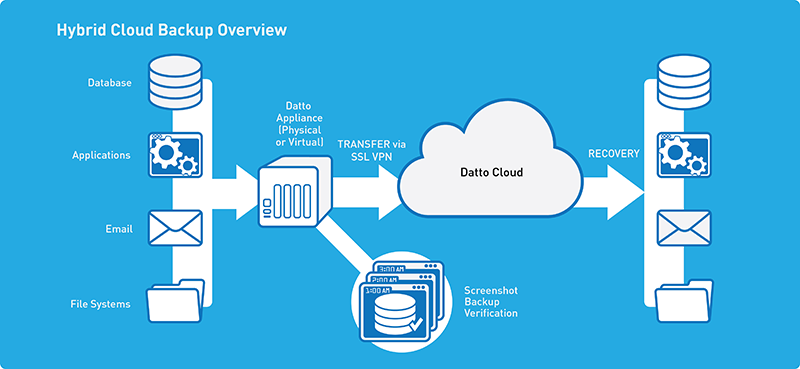 Controls
Data protection and disaster recovery can be classified in three parts: preventive measures, detective measures, and corrective measures. The first measure aims to keep unwanted technological events from occurring; the second tries to uncover unwanted event that are extant and lurking either in sight or out of it; and the third is all about restoring order after disasters occur.
All three are equally critical, yet it has been reported that 80% of businesses don't have reliable backup solutions in place, and 93% of companies that suffer a significant data loss are out of business within five years.
Don't let your business be one of the statistics. Take preventive, detective, and corrective measures seriously with SYS IT's Data Protection and Disaster Recovery plans that continuously archive your data and develop plans to restore it at a moment's notice, even after calamity.